We are here to AMPLIFY you...
all our family and friends...
help you reach you potential no matter what.
Meet one of our family, BOYCEE… he is definitely going places. Thanks to Bandjamm, he has been spotted by Google Arts & Culture, to star in the Pet Portraits promotional campaign
As Mr.M.A.R.s say...COME ON, LET'S DANCE!!!
we won 'Highly Commended'
"BEST D&I INITIATIVE / PROGRAMME"
Our collaboration project, Bandjamm, Mr.M.A.R.S. with Vodafone's Multicultural and Inclusion Network (MIN) #WillYouInviteMe campaign won 'HIGHLY COMMENDED' in The Drum B2B Awards on 18 Nov 2021. The other winners, were Google and Facebook. This is our second global nomination for this campaign, but this is our #FirstGlobalAward! #superproud
Earlier this year in July 2021, we were also a finalist in The Drum Marketing Awards 2021 as "Diversity and Inclusive Company of the Year".
Bandjamm branded merchandising for sale
Bandjamm is a CIC, non-profit organisation… thus we are always finding ways to fundraise to amplify our various activities for the artists/musicians and the general community. Our branded merchandising is one of our fundraising vehicle. All proceeds go to cover the production costs and the remaining back into Bandjamm. If you are interested, please contact us at hello@bandjamm.com with your request/ details. 
We will also be selling them at the Bandjamm Night events, every 2nd Thursday of the month, at The Others.
LAUNCHED - BANDJAMM LOYALTY CARDS!!!
We want to thank everyone who come to support us on our Bandjamm Nights – every 2nd Thursday of the month at The Others. Tickets are available on Event Brite. Every time you come to join us, you get a loyalty stamp… and you can redeem amazing rewards with them. 
Remember to get the loyalty card from us at the door! Don't miss out… come on in, let's jamm!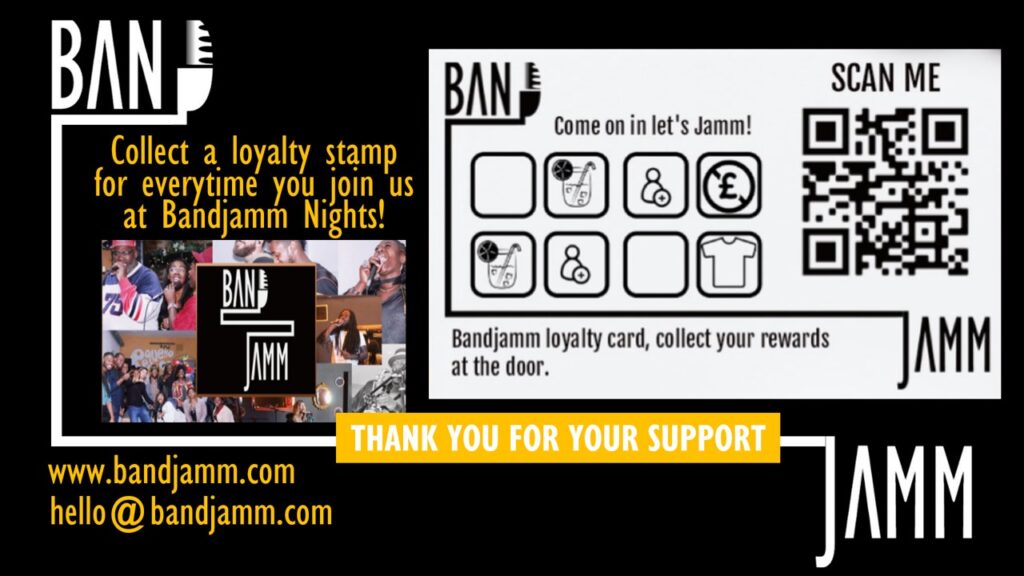 "Meeting Bandjamm is like meeting family.
Coming to Bandjamm is like coming home."
Over the summer, we got together, as a family, and started to plan our next phase of Bandjamm journey… with a new brand vision and marketing arsenal. As Bandjamm is about amplifying our artists, we invited our dearest friends, Daisy, Deborah and Dednd to join our Sunday BBQ to share our ideas on how we want to take Bandjamm to the next level. 
They love it! (and the BBQ too!)
"Who do you want to be when you grow up?
I want to be a pop star!"
Kids are great when it comes to dreaming big. They have no sense of fear of saying what they want to be. And it is our responsibility to nurture them, to bring their dreams alive. 
Come talk to us to find out what Bandjamm is doing to support the children from the local community. Help us to amplify them.
"Diversity is being invited to the party,
inclusion is being asked to dance"
~ Verna Myers ~
Vodafone commissioned Mr M.A.R.S to write an original song to drive the Diversity and Inclusion conversation, as part of the Multicultural Inclusion Network (MIN) relaunch campaign #WillYouInviteMe on 18 Nov 2020. It was an amazing success story resulting in MIN membership doubled…from 632 to 1381 within 6 months.
We also won Finalist in The Drum Marketing Awards 2021, in the category of "Diversity and Inclusion Company of the Year".